Who...can i blame for not blogging for 4 DAYS!!!! That's ridiculous! Ludicrous!
Anyway, lots of fun things happening, but not so much with scrapping. I haven't made anything decent since my Indian Princess page. *sigh* Ah well. I'm sure the mojo will return home soon. Maybe its on vacation? idk.
Went THRIFTING on Saturday! It was seriously amazing. Not just one thrift store either. Greg, Ian, and I scoured all of Muncie, IN for every trace of a pretty vintage bargain. We're talkin garage sales, yard sales, rummage sales, and every single thrift store in town! omg. It was amazing.
We found one place called....Walnut St. Thrift Store or something really creative that i LOVED.
I got a green little teacup, a vintage owl, and a little tin for my roommate there. SO amazing.
Found a few other places called Muncie Mission [which was closed], Second Hand Rose, The Whistle Stop, and a few others. I got a little regular dish with feet. I ended up putting it on my sink. I think its found a nice home there. Also snagged a vintage lipstick holder similar to the one my Great Grandma has. I love it.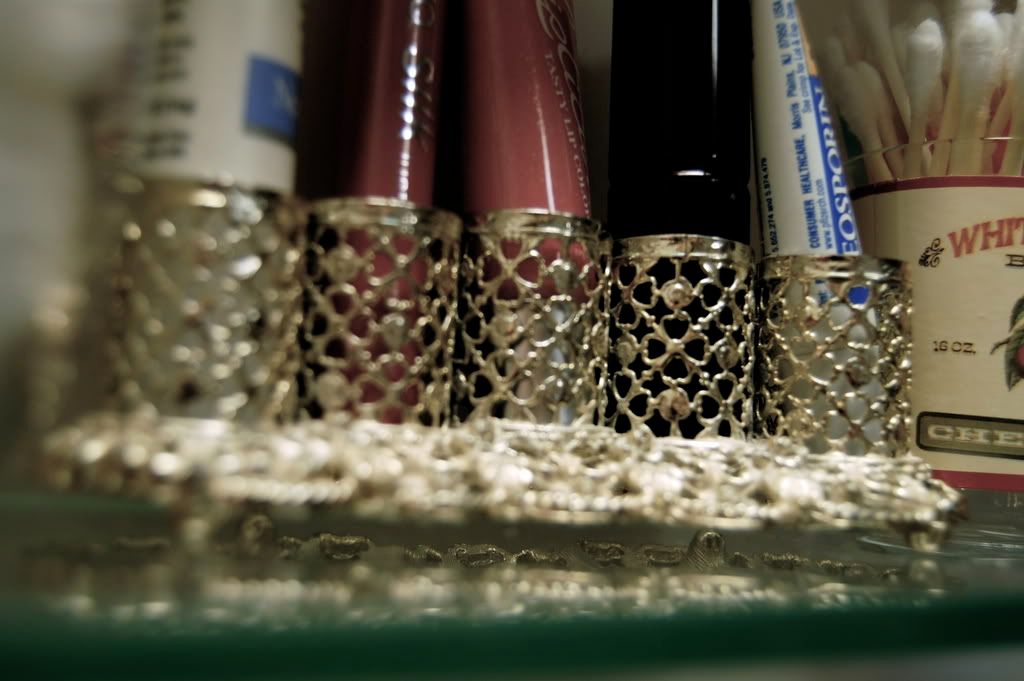 But my very very very BESTEST find of the day.... is what I would like to introduce to you as Rosy. :] Good ole $3.00 Rosy. That's right--a gorgeous honest to goodness working typewriter for $3.00. I found her sitting on a garage floor and when I said I wanted to buy it, the lady said "Really? A typewriter? An honest to goodness typewriter?.....why?" I responded with "Well....I'm an old soul."
She is an Olympia, made in Germany. I've researched online quite a bit and I found a site that had one EXACTLY like her as far as I could see and it said she is from 1963. The person on that site paid like $150 for her twin, So I'd say I got a steal! I love her so much and she's so fascinating that I just find myself typing cute little things on regular copy paper just for the fun of it. I like the sound of the keys. haha
As for other things, I got one of the etsy things I ordered in the mail today. Cute cute cute little scallop edge printed labels. Mmmmmm Yum. I got these little gems
here.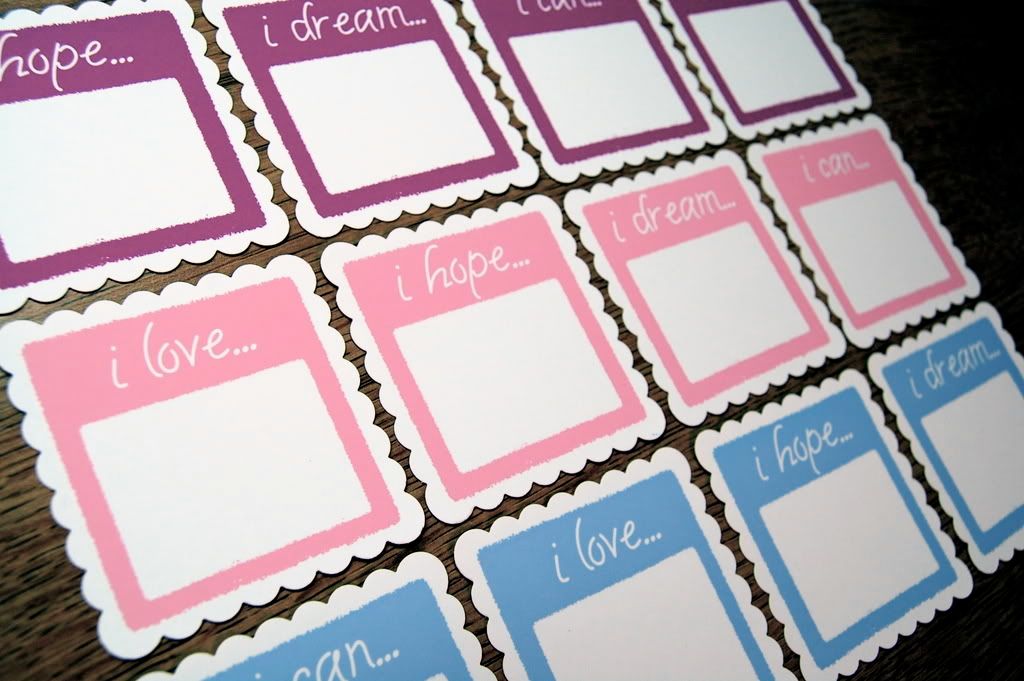 she even threw in a few little extra tags too which I thought was super sweet.
The
shop
is off to a running start! I'm glad I finally have it going. Its a good feeling, you know? To know that you've accomplished something real. I like it. In case you hadn't noticed, I have lots of goodies up in there both paper and beaded.
But anyway, there's been a new update as of tonight. I got the rest of my stock added for right now. I have some ideas cooking up though. All sorts of things running through my head that I'm ready to get through my fingertips. <3
Also, my roommate Rachel just got a BLOGGGGGG!!!!! You can find her site
HERE!!!
Go check her out! She's talented and SO fired up about the new album she's starting! I love new inspiration and motivation! It can do magical things.
Just to keep you in the loop, things I have cranking in my head as of late:
*vintage button rings
*my Halloween Treat Bags inspired by
this.
Thank you Paper Source.
*more earrings
*a brightly colored wall hanging
*getting
Greg's
etsy up and running.
*a rainy photoshoot this weekend with Gweggah. Mmmm.
*new packaging
*The new
Scrapmojo challenge
...due tomorrow. Ahhhh.
*too much to even mention.
The wheels are turning. Maybe the mojo's coming back...