Why does the weekend have to be over? It was practically perfect in every way.
But just because its over doesn't mean that the cuteness is over! This is what I made for
The Art is Found
this time. The prompt was cardboard--NO PROB, BOB. I love messing with cardboard. This little wall hanging was made from the cardboard inserts from a paint can thing i had. I've been meaning to make this and just hadn't got around to it.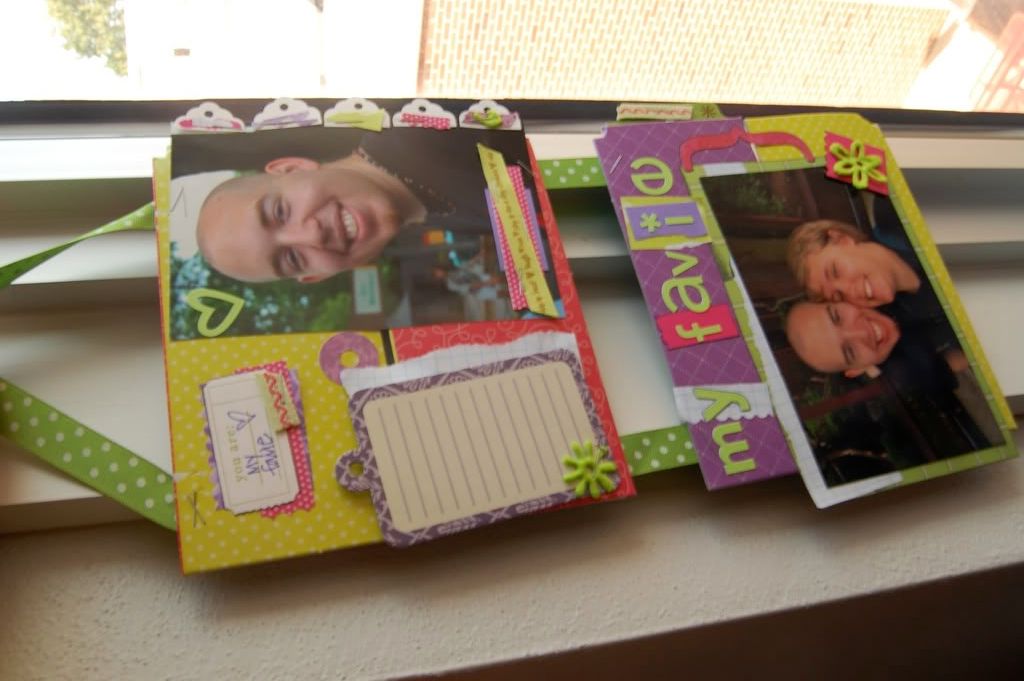 Right now I am in a deep relationship with autumn. I'm sure I have mentioned it before, but if its been a million times, it wouldn't be enough. I love it.
Things I love about autumn:
*pumpkins
*the smell of the air
*leaves crunching
*the colors
*the clothes
*scarves
*acorns
*Halloween
*Thanksgiving
*my birthday
*the temperature and the weather
*just...everything. I can't describe it.
Conversation between Ian and I at lunch today:
E:"I need acorns. With the hats on them."
I:"Ok. we'll get you some. Why do you want them?"
E:"I want to fill my yellow teacup with them."
I:"Ok we'll go look after lunch."
So we did. We were mildly unsuccessful. We found a few really little ones, and Ian talked me into a few small pinecones and nuts, but what i really wanted were the acorns. I WILL find some.
Well Ian, Greg, Rach and I went to the art walk in Muncie the other day. I'll admit that I was envisioning tables and tables of treasures: all under $5 preferably, haha and everyone walking around in the streets, eating popcorn and looking at all the beautiful things wearing cute fall coats, etc. Wellll I was a bit dissapointed. There weren't that many vendors or artists. There were quite a few pottery wheel demonstrations and the model shop was having an open house. But other than that, not a whole lot to look at it. I will admit though, that it was fantastic to get off campus and just be with my friends in the fall air. *Wonderful*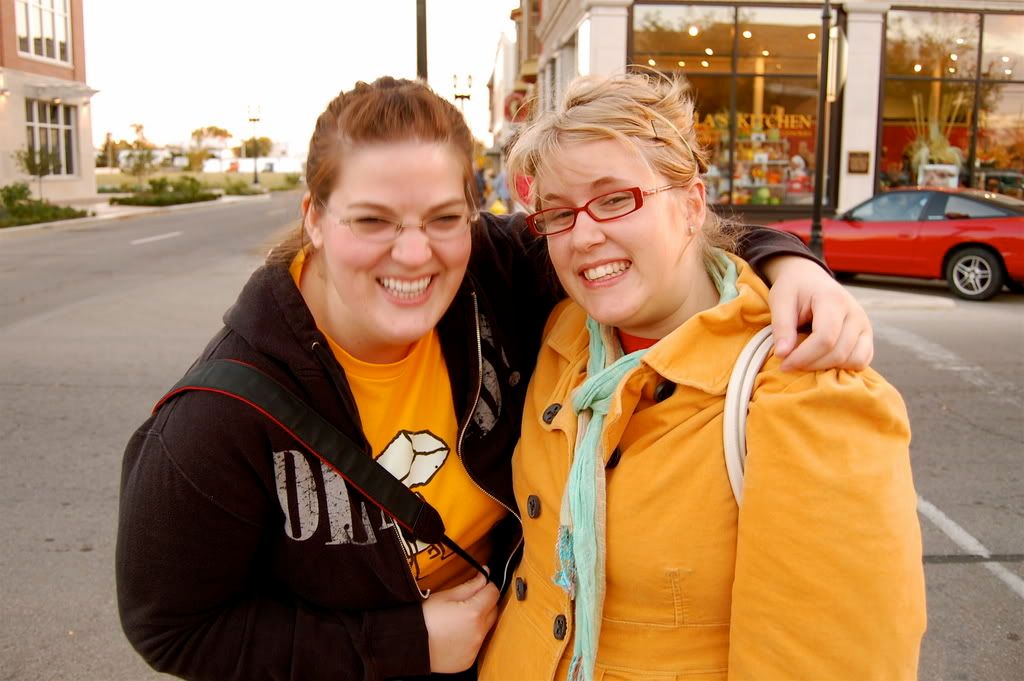 We've also been getting in a few photo shoots lately as you can tell. One of my favorites has been the one that Greg and I did for his photography class. They had to shoot "weather." That was the only requirement. I was the model and it was a fabulously cold day, but we got some super cute shots: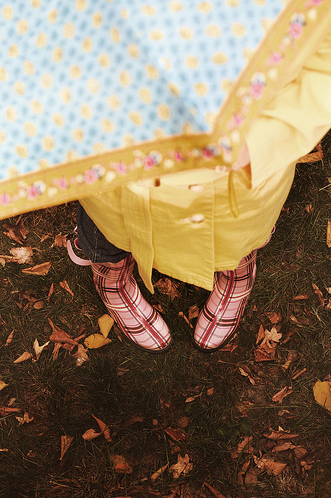 Greg is so talented. Only he can make me look like a complete hottie with those rainboots on. :]
As far as crafting goes, I got these cute little paper coaster disc things from a wedding I attended a few weekends ago. Are they not the CUTEST things You've ever seen. I can't wait to put these babies on a layout.
And.....a little etsy sneak peek just leaked out onto this blog post! Uh oh... :]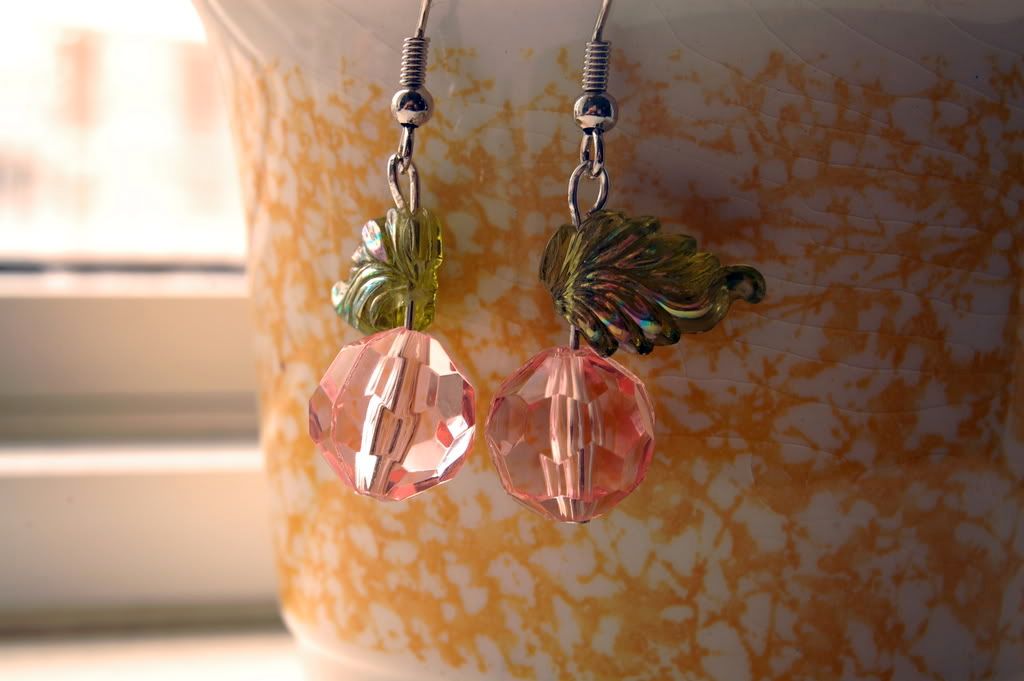 Speaking of etsy, there are a bunch of things that i absolutely WANT from there right now. If only I were independently wealthy. haha::
*This lovely
necklace.
Isn't it glorious. Ugh drooling.
*This little
hand carved owl stamp
Mmmmm.
*This
Fall art journal kit
from Elsie Flannigan--big surprise.
*This
rebuilt vintage ring.
Weird, yet amazing.
*These
pumpkin face scrubbies!
[that i may or may not have already bought...la-di-da...]
Other things that I'm just plain obsessed with right now:
*My aunt found these
owl treat bag toppers
on
Splitcoaststampers.com
Where else? haha. omg love these.
*acorns. With their hats.
*teacups. Thrifted ones. I think a collection is forming.
*bronze wire. Its just serving me well in the button ring-making industry.
*etsy in general. too much online shopping. Etsy just makes it too easy to buy cute things. haha.
*Pizza Bagel bites. Discovered and now I can't stop.
*the upcoming Fall Break and Halloween.
*owls. idk why. We've been through this before. ;]
*the new HALLOWEEN TREE that my roommate and I set up in our room. Pics to come.
*my roommate. LOL.
*probably other crazy shenanigans that I can't think of right now.
Alright, i seriously have more to say, but mayhaps another post because this one is montruous! Have a fantastical Monday, all. You can do it!