Today. has been one of the most inspirational days I've had in a long long time. It's been fantastic!
I was going to leave this until the end of the blog, but i just can't contain myself:
I SIGNED UP FOR ELSIE FLANNIGAN'S ONLINE ART CLASS!
I'm so so so so excited! Oh wow I'm totally psyched. You should totally check it out. She's doing 6 weeks with 5 projects each week with everything from: jewelry, photography, scrapping, embroidery, holiday gifts, gift wrapping, home decor, and more! It's going to be the most inspirational 6 weeks EVER. I can't wait. Happy Birthday to me!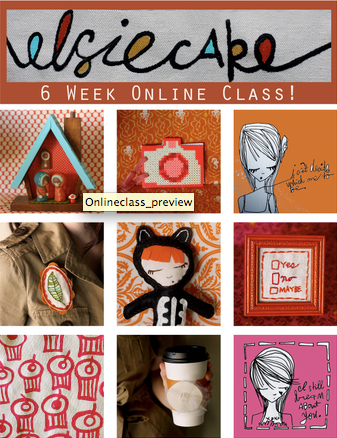 The
Craftcake Designs etsy shop
has been rockin! I've got some new things up. Not a LOT, but hopefully there will be more in the next few days! Here are a few peeks:
I've had a good time putting little notes and extra goodies in with my etsy shipments. :] its so fabulous.
As for personal crafting goes, I have a mysterious disappearing page that I found in my craft tote the other day. A page that I must have forgotten about. It belongs to the Paper:08 Challenge on "Choose." Choose what you are and what you do and what you want to be.
I also made some adorable treat bags for my friends. :] i got the idea
here
so the idea isn't COMPLETELY original, but i made them all myself! They were a big hit and I think they're just so darn cute! :] Happy Autumn!
I went thrifting on Sunday too. MY FAVIE OF COURSE!!! Ended up with som awesome little finds!
I don't think I've mentioned this lately... but i love...no...adore thrifting. You just find the most wonderful treasures. vintage and lovely and amazing and just...treasures. Mmmmm.
Although aside from thrifting I also invested in some new fabrics at the Moonlight Madness sale at
Jo-Ann Fabrics.
I was practically drooling over all the magnificent fabric quarters. Ughhhh. That pinkish patterned fabric is Heidi Grace too. Can you believe it? There was a whole rack and it was just....beautiful. :]
Oh, and those keys that are hanging, my awesome sister found those for me at a sale and gave them to me for part of my birthday present along with a TON of awesome craft supplies! She's the greatest!
Also, I got this ORIGINAL PAINTING on etsy @
here
. she has some amazingly cute paintings, not to mention her cards! :] you can also find her
here!
I love it Bekah!!!
I have a few more etsy purchases on the way too that I'm excited about! :] those to come later this week!
a few inspirations right now:
*
Elsie Flannigan
obviously.
*
THIS!!!
@ Anthro. omg. I was like WHAT? My dream for my future kitchen is mismatched dishes and colors and lovliness. I think from here on out, let's just
assume
that I wish for lovliness. :]
*
Scrap in Style Holiday classes!!!
I'm not taking it, but it looks positively wonderful just by looking at the flyer! Mmmmm. Holiday decor!
Coming soon:
*more pics of etsy purchases
*another
etsy update!
*my 21st BIRTHDAY on friday! ALong with a very special to-do list.
*maybe some sewing projects
*more excitement and inspiration!!!
EDIT:::
Also, as Bekah has reminded me and I almost forgot, if anyone has any ideas for felt deisgns on a jersey knit scarf, let me know because I'm looking for ideas! I have a few things in mind, but I would like to hear what ideas y'all have! K thanks!