So I decided to sew this weekend...there were a few mishaps I must admit because I haven't made an actual PROJECT since x-mas break, but its made! and its CUTE!!! This, my friends, is my new wrap for travel scrapbook supplies. I decided that I never have a place to put Sharpies and a mini book, so I made something to fit! Now I can just throw this in my purse or duffel or overnight bag and I can be ready to document at a moment's notice. P.S. notice the detailing on the white fabric. Yeah--I QUILTED THAT MYSELF!!!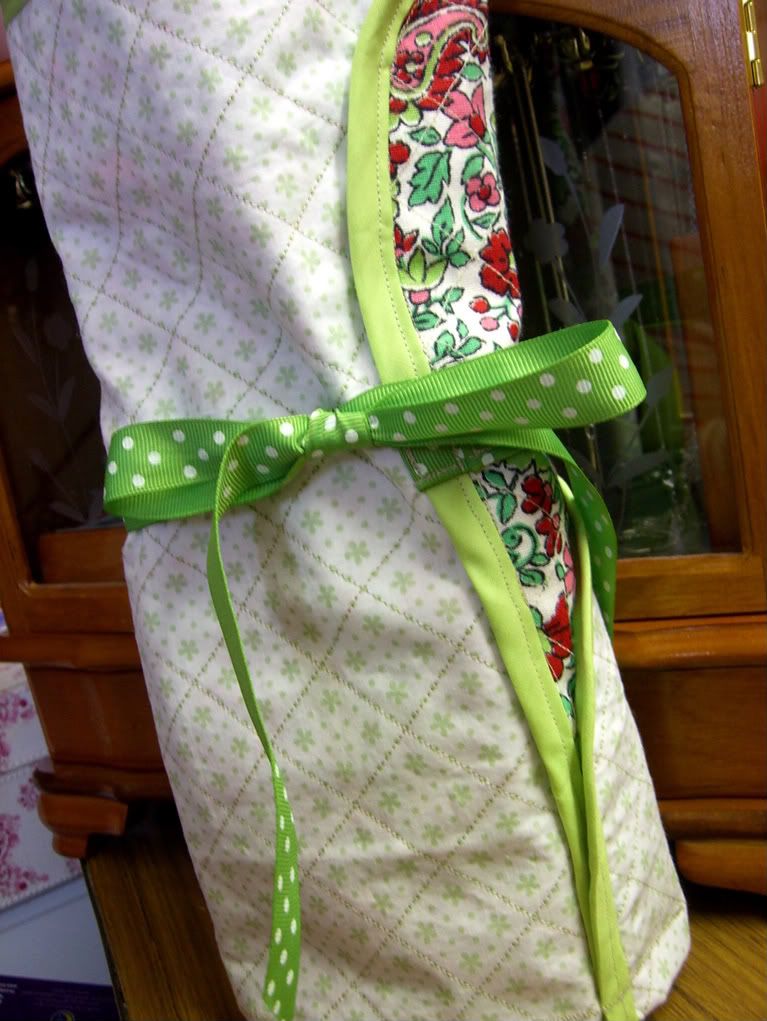 (side note: for those of you who sew regularly, I know, i know, i actually cheated on the bias tabe and machine sewed it. Its SUPPPOSED to be done by hand so you can't see it, but after the time I had getting the bias tape ON there, I didn't want to mess with it. I think it still looks cute though.)
(old vintage fabrics from a lady in Monticello, ivory quilter's thread, wide double fold bias tape in sage, grossgrain ribbon)
This little beauty is my new bag!!!! Purchased from Target.com, it is my new pride and joy. I don't know what it is about having a new bag....its so exhilarating. My theory is, if you can't have a stylish outfit, get a stylish bag and the outfit will follow. :) Its large and roomy and strong and convertible. I just am in lust with it.
So I'm hoping to start a new mini project soon, but I've just been so busy. In my opinion, the rest of the world and priorities will have to wait because I NEED TO SCRAP!!! hahaha